Art & Artifacts
Discover the Library Company's Art and Artifact Collection
Distinguished Painters
Benjamin West

Known in England as the "American Raphael," Benjamin West (1738-1820) was an iconic American artist, who specialized in historical subjects, religious, and landscape paintings. He was born the tenth child to Quaker parents in Pennsylvania. After wealthy Philadelphians discovered West's paintings, they sponsored his journey to Italy to study the art of classical antiquity, the Renaissance, and the Baroque period. Only twenty-two at the time, West became one of the first Americans to venture to Italy, a journey that would strongly influence his beliefs in the perfection of the classical sculptural form. His admiration for antiquity profoundly affected American painters that followed, including Charles Willson Peale, John Singleton Copley, and Gilbert Stuart. In 1763, West moved to London, his reputation in Italy already preceding him, and quickly gained great acclaim. His most famous painting The Death of General Wolfe, was completed in 1770 and later showcased at the Royal Academy in 1771; the piece, though controversial because it broke away from classical costume tradition, became one of the most reproduced prints of its day. One year later, in 1772, King George III appointed him "History Painter to the King." He was among the artists engaged in founding the Royal Academy in London in 1768 and served as president from 1792 until his death in 1820. Though he spent the rest of his life in England, West remained a close personal friend of Benjamin Franklin, and, today, his works reside largely in Philadelphia and London.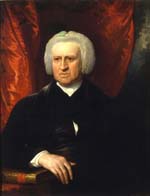 Benjamin West (1738-1820).
Reverend Samuel Preston (ca. 1717-1803), 1797.
Oil on canvas.
Library Company of Philadelphia. Gift of Elizabeth West (Mrs. Benjamin West), 1804.

Benjamin West, The Reverend Samuel Preston
Expatriate Benjamin West painted this portrait of the Rev. Samuel Preston, rector of Chevening in Kent, and it is probable that he induced Preston to bequeath his private library of over 2,500 books to the Library Company. Preston was also an acquaintance of Benjamin Franklin, who is known to have visited the Earl of Stanhope, a sympathizer of the American colonists, in Chevening in 1774. Coming from a man with no intimate connection to Philadelphia or the Library Company, Prestonís bequest came as a pleasant surprise. His bequest in 1803 included some of the first books with color printing to arrive in America and a vast array of expensive, illustrated texts on history, geography, and the fine arts