Art & Artifacts
Discover the Library Company's Art and Artifact Collection
Distinguished Painters
Thomas Sully

Thomas Sully (1783 –1872) is one of the most prolific early American painters, known for his sketch-like style, dignified poses and expressions, and for "avoiding mere likeness and instead capturing the emotion of his subjects."[1] He was born to Matthew Sully and Sarah Chester in Horncastle, Lincolnshire, England. His parents, both actors, immigrated to the United States in 1792 with their nine children. Sully's painting career began under the tutelage of his elder brother Lawrence. In 1804, he opened his first studio; that same year his brother Lawrence died. Thomas assumed responsibility for the family and later married his brother's widow. Sully visited Boston in 1807 where he briefly studied under Gilbert Stuart. He then moved to Philadelphia permanently and set up a studio where he quickly became a leading portraitist. Sully traveled to London in 1809 to study under Benjamin West. The years following this trip were momentous, with Sully not only beginning to teach for the first time, but also to exhibit his works. Sully painted portraits of prominent members of society, such as Andrew Jackson, Thomas Jefferson, and the Marquis de Lafayette. However, following this initial success, the economic disaster of the Panic of 1837 created hardship for him. With his commissions wavering and payments on those he had past due, Sully traveled to London on commission by the Philadelphia chapter of the Society of the Sons of Saint George to paint Queen Victoria. His painting of the Queen created publicity, and following his return to Philadelphia, he once again returned to painting portraits. He died in Philadelphia at the age of ninety having become one of the most popular American painters, and the Library Company is fortunate to have eight of his works in the collection.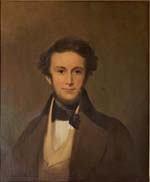 Thomas Sully (1783-1872).
Edward L. Carey, 1857.
Oil on canvas.
Library Company of Philadelphia. Gift of Helen Lea Humphrey, 1996.
Edward L. Carey (1806-1845) worked in the book trade and was an avid art collector. He was the youngest son of Mathew Carey, an important publisher, magazine editor, and founder of nationalist American economic thought. He left the family publishing firm in 1829 to enter the retail book trade, forming Carey & Hart with partner Abraham Hart. He was a patron of Thomas Sully and commissioned many works from him including several paintings of Shakespearean characters. He retired from Carey & Hart in 1839 andat the time of his death was President of the Pennsylvania Academy of the Fine Arts.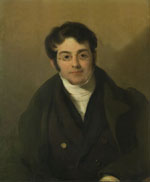 Thomas Sully (1783- 1872).
Joseph Fisher, "Optician," 1828.
Oil on canvas.
30" x 24 1/2".
Library Company of Philadelphia. Bequest of Joseph Fisher, 1864.
Many Philadelphians commissioned Sully to paint their portraits as Sully's reputation grew and having one's likeness captured by him became increasingly fashionable. Library Company shareholder Joseph Fisher, as the title states, was an optician and is listed in the city's directory as a "spectacle &tc. maker." This portrait came to the library in 1864 as a part of his bequest, along with his private library and $50,000. The bequeathed money went to a building fund to erect a fireproof building.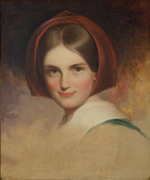 Thomas Sully (1783- 1872).
Charlotte Saunders Cushman, "of the Walnut Street Theater," 1843.
Oil on canvas.
20" x 17 1/2".
Library Company of Philadelphia. Bequest of Anne Hampton Brewster, 1892.
Charlotte Cushman (1816-1876) was a Boston-born actress who became the leading American stage actress and immensely famous in both America and England. Cushman was the stage manager of the Walnut Street Theater in Philadelphia from 1842 to 1844, and this portrait was painted during that time. She was acclaimed for her strong and dramatic performances in roles such as Lady Macbeth. Cushman was also fond of male roles, particularly Romeo in Romeo and Juliet. In this portrait, Sully captured Cushman in character as Beatrice in Shakespeare's Much Ado About Nothing. The style of the painting is direct and emotionally expressive. Upon viewing the painting, Cushman would remark that it "established in my mind as a settled fact that I am beautiful."[2] This painting remains an example of not only Sully's skill but also as a record of a talented and successful female artist.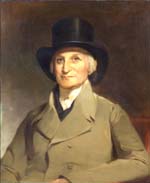 Thomas Sully (1783-1872).
Zachariah Poulson, 1843.
Oil on canvas.
Library Company of Philadelphia. Commissioned by the directors of the Library Company, 1843.
Once described as "one of Sully's finest portraits of a male sitter," Sully's representation of Zachariah Poulson (1761-1844) captures the serene countenance of a man who devoted his life's work to the Library Company. Born in Philadelphia into a family of printers, Poulson prospered in the business, editing and publishing the newspaper Poulson's American Daily Advertiser from 1800-1839. He supported many philanthropic organizations including the Philadelphia Society for Ameliorating the Miseries of Public Prisons, the Society for Promoting the Abolition of Slavery, and the Pennsylvania Hospital. He served as Librarian of the Library Company from 1785 until 1806, Treasurer from 1806 to 1812, and Director from 1812 to 1844. Poulson's fellow Library Company directors commissioned this portrait in 1843 to honor his commitment to the institution. Painted a year before his death, it captures his gentle and benevolent spirit.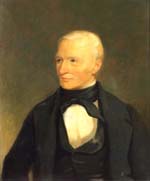 Thomas Sully (1783-1872).
George Campbell, 1856.
Oil on canvas.
Library Company of Philadelphia. Gift of Edwin Wolf 2nd, 1960.

A native Philadelphian, George Campbell (1783-1856) studied law and was admitted to the Pennsylvania Bar in 1803. However, he was most known for his philanthropic pursuits, along with his interests in music and history. In 1806, Campbell was appointed librarian to the Library Company and eventually expanded the color-plate books collection tremendously. He served for twenty-seven years as Secretary of the Philadelphia Musical Fund Society, the group that commissioned this Sully portrait in 1856.
[1] Robert L. Gale, American National Biography (New York: Oxford University Press, 1999), 131.
[2] Note in the Harvard Theatre Collection, Harvard University Library, as cited in Monroe H. Fabian, Mr. Sully, Portrait Painter: The Works of Thomas Sully (Washington D.C.: National Portrait Gallery, 1983), 65.