Art & Artifacts
Discover the Library Company's Art and Artifact Collection
Distinguished Painters
James Peale

James Peale (1749-1831), younger brother of artist Charles Willson Peale, was a painter, specializing in miniature portraiture and, eventually, still lifes and landscapes. Born in Chestertown, Maryland, James apprenticed in cabinetmaking and saddlery in his early years. However, when his brother Charles returned from England as a skilled artist in 1769, James soon became his student and assistant. From his brother, he learned watercolor and oil techniques, along with the elements of portraiture. James went on to serve as a first lieutenant in the American Revolution as a member of the Maryland regiment in the Continental Army, eventually retiring a captain in 1779. After his service, he resettled in Philadelphia to live with his brother. In 1782, he married Mary Claypoole, sister of engraver and portraitist James Claypoole Jr., and moved into his own residence in the city. Throughout the next decade, he established himself as a miniaturist, painting likenesses for Philadelphia merchants and their wives, lawyers, military officers, and for both George and Martha Washington. James developed a niche in miniature portraiture. He created his own style that included long brushstrokes, soft lines, and strong color, and he depicted sitters with an iconic "Cupid's bow" smile. As his eyesight weakened and the miniature work became too exacting, Peale began to experiment with landscapes and still lifes. Along with his nephew Raphaelle, James became one of the first American artists to specialize in still life and is now deemed one of the founders of the American still life tradition. He went on to exhibit these works at the Pennsylvania Academy in the 1820s, before turning to romantic landscape paintings until his death in 1831.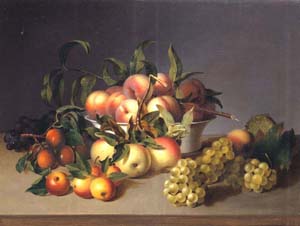 James Peale (1749-1831).
Still Life with Peaches, ca. 1824-1831.
Oil on canvas.
Library Company of Philadelphia. Bequest of Dr. James Rush, 1869.

James Peale, Still Life with Peaches
This still life is a fine example of Peale's soft yet textured style. Art historian Edgar P. Richardson once described Peale's work, stating that his paintings "combined precise drawing, bright, clear colors, and simple effects of luminosity." Here, the darkness of the background gently envelops the fruit, as they cascade of out the bowl. Still Life with Peaches showcases Peale's use of textures and light effects. An inscription on the stretcher of the frame revealed that the painting was a New Year's gift to Mrs. James Rush, whose husband was Peale's family doctor. When he died in 1869, Dr. Rush left his estate (largely inherited from his wife Phoebe Ridgway Rush) to the Library Company.