Art & Artifacts
Discover the Library Company's Art and Artifact Collection
Distinguished Painters
Thomas Doughty

A native of Philadelphia, Thomas Doughty (1793-1856) was one of the first American landscape painters of note, eventually becoming a prominent member of the Hudson River School. He began his career as a leather currier with his brother Samuel, but by age twenty-seven he had shifted to painting. Though he had no formal training and his prospects seemed dim, Doughty confessed that he had acquired a love for the art which "no circumstance could unsettle." By copying and studying the European masters he had seen in the Pennsylvania Academy of Fine Arts, he was able to develop a style all his own. He became well-known for his vivid, picturesque landscapes, each of a distinctly American character. In 1824, he was elected as a member of the Pennsylvania Academy and in 1827, as an honorary member to the National Academy of Design. The most successful period in his career came during his five years in Boston, beginning in 1832, when he exhibited annually at the Athenaeum. He continued to travel extensively and exhibited his work in New York, Philadelphia, Maryland, as well as England and France. By the last decade of his career, Doughty's appeal had dwindled, and he spent the last years of his life in poverty in New York.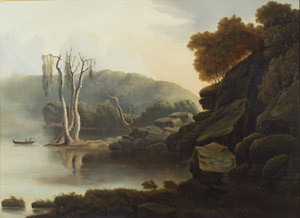 Thomas Doughty (1793-1856).
Lake Scene, ca. 1828.
Oil on canvas.
Library Company of Philadelphia. Bequest of Dr. James Rush, 1869.
Thomas Doughty, Lake Scene
The Lake Scene captures the quiet solitude and transcendence of the Hudson River School. Doughty's first version of the Lake Scene was said to be painted for Henry Pickering, a Hudson River poet, to illustrate his poem in the Atlantic Souvenir, a gift book published in 1827. Our painting is a later version that differs slightly with the addition of a pair of huntsmen in a boat. Doughty often included such solitary figures in his work to accentuate his own uplifting communion with nature. Here, he demonstrates his talent for depicting sylvan grandeur, as he captures the soft atmospheric setting.