The Return of the Regicides ["The Angel of Hadley"]:
How Philadelphia Exported a Gothic Literary Device to a Broader American Literature.
Looking for distinctive material to help foster a national literature, early U.S. fiction writers often expropriated and Americanized material they found in foreign sources – like the 'Return of the Regicides' theme. Two of the Puritan judges who signed the death warrant of Charles I, Edward Whalley, and his son-in-law William Goffe, fled to New England as the monarchy was restored in 1660. They were living secretly in Hadley, Massachusetts, when Indians attacked in 1675 during King Philip's War. When the people panicked, an unknown leader in out-of-date garb, but with obvious military experience, mobilized the town, and saved the day. Years later this "Angel of Hadley" was recognized as one of the Regicides, who bravely sacrificed his witness-protection-like anonymity to help his new homeland. Or so the legend goes.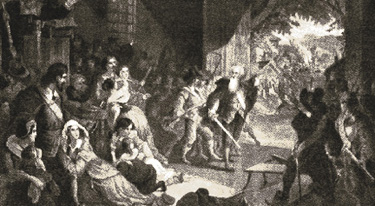 In 1823 Sir Walter Scott mentioned Goffe and Whalley in a novel, but without developing any American implications. Two up-and-coming Philadelphia writers – playwright James Nelson Barker and novelist James McHenry – saw the potential and grabbed up the story. Later, Cooper in New York and Hawthorne in Boston picked it up from them to even better effect.
After the American Civil War, the idea reappeared in the form of a legend among veterans of the 20th Maine Volunteers: At the Battle of Gettysburg, when Col. Joshua Chamberlain was defending Little Round Top against a much larger Confederate force, a white-haired figure in antique garb suddenly appeared on horseback to rally his troops. Some said it was George Washington, but the so-called "Ghost of Gettysburg" materialized from Philadelphia's disinterment of the Regicides.
Above: John C. McRae. The Perils of Our Forefathers. Hadley, 1675. (New York, 1859). Engraving after a ca.1850 oil painting by Frederick A. Chapman now at the Forbes Library, Northampton, Massachusetts. This engraving depicts the legend of the Angel of Hadley, Massachusetts. The bearded man at the meeting house door is the mysterious stranger who alerted the congregation to an Indian attack and was later thought to have been Regicide William Goffe. This local legend was first committed to print in 1794 in Ezra Stiles's History of the Three Judges. It is likely that Goffe was in hiding in Hadley in 1675, but there is no record of the Indian attack, and the story seems to have been mostly invented.
_______________________________________________________________________________________
| | |
| --- | --- |
| | [Walter Scott]. Peveril of the Peak. (Philadelphia, 1823). In the 1820s, Sir Walter Scott was by far the best-selling novelist in both Britain and America. Peveril of the Peak, his longest novel, included a brief 2,000-word nugget featuring Regicides Goffe and Whalley as characters. It was introduced to American readers in this Philadelphia reprint edition by Carey & Lea, the largest publishing house in the country. And it was Philadelphia writers who pounced on this American material, distilling it into Gothic novels, plays, and stories. So great was the American demand for Peveril that the first volume was already reprinted when word arrived from Edinburgh that Scott was adding an extra fourth volume of text. The Philadelphia reprint had been set in smaller type so it would fit into two volumes; and Scott's change obliged them to print a third volume. The covers had already been printed with the title reading "in two volumes," and a label correcting the error (shown here) had to be pasted on. |
| | |
| | [James McHenry]. The Spectre of the Forest, or, Annals of the Housatonic. (New York, 1823). Brockden Brown and Fenimore Cooper were this Philadelphia doctor-novelist's models, and he joined their campaign to foster a truly independent American literature using native themes, settings, characters. He also eyed Scott's great success. He picked up the Roundheads-hiding-in-America theme for a novel almost as fast as Barker had for a play. In Dr. McHenry's version, set in the Berkshires, a mysterious being who is clearly Goffe hovers about a beloved ward. The Regicide sends the ward back to England to reclaim an ancestral patrimony, and brings him back in time to rescue his intended from an accusation of witchcraft. |
| | |
| | James Nelson Barker. The Tragedy of Superstition. (Philadelphia, 1826). Copy owned by Dr. James Rush. Having been an Adjutant General during the War of 1812 and recently the Mayor of Philadelphia, James Nelson Barker was also an accomplished playwright. His Tragedy of Superstition was first performed at the Chestnut Street Theatre on March 12th, 1824, and immediately became one of the greatest successes in America's short history of homegrown drama. In it, hero Charles Fitzroy is secretly both the illegitimate son of King Charles II and the grandson of disguised Regicide William Goffe, here called "The Unknown." Worse, Fitzroy is engaged to the daughter of a tyrannical minister involved in the Salem witchcraft trials. This copy of the play belonged to Dr. James Rush, the Library Company's own special Gothic character, whose million dollar bequest in 1869 was a curse that nearly blighted the institution he loved too much. The physical remains of Rush and his heiress-wife Phoebe – watch where you step! – are now interred in the foundations of this building. |
| | |
| | James Fenimore Cooper. The Wept of Wish-Ton-Wish: A Tale. (Philadelphia, 1829). Cooper, known as "the American Scott," exploited the Regicides theme next. Wish-Ton-Wish is the Connecticut River Valley community where the Heathcotes live during King Philip's War, and "the Wept" is their kidnapped daughter, who becomes an Indian and marries the hero, the noble Narragansett Conanchet. The villain is nasty nosey Puritan preacher Meek Wolfe, who advocates murdering Indian women and children as a religious duty. Regicide Goffe appears as a character called "The Submission," who shows villagers how to repel attacks from Indian warriors. Uncas, the last of the Mohicans, makes a cameo appearance. |
| | |
| | The author of "The Gentle Boy" [i.e., Nathaniel Hawthorne]. "The Gray Champion." In The New England Magazine (Boston, January, 1835). In his reprise of the device – probably the best-known version of the Return of the Regicides – Hawthorne translated the story to Boston where there's a standoff between troops of the despotic Royal Governor Andros and the Puritan townspeople. When a gaunt figure appears prophesying the regime's downfall and the Governor's arrest, Andros backs off. This champion of the people is said to reappear whenever America is in trouble. The piece first appeared in this magazine, and it was Hawthorne's first choice for inclusion in his first collection of his stories (1837), which made him famous. Young Hawthorne had visited New Haven in the late 1820s to see Judges Cave, where Whalley and Goffe hid from arrest before going to Hadley. |
| | |
| | James Kirke Paulding. The Puritan and His Daughter. (New York, 1849). The Regicide theme spread from Philadelphia to New York. Knickerbocker author James Kirke Paulding used it in his last novel, but shifted the scene from Cromwell's England to Virginia before moving to Hadley, where Goffe as usual comes out of retirement to save the village. In the end the Puritan's daughter marries the Cavalier's son in time to avoid being swept in to the Salem witchcraft delusion |
| | |
| | [James] Bayard Taylor. "The Strange Friend." In Atlantic Monthly. (Boston, January, 1867). Redactions of the Angel of Hadley continued to reverberate through American letters. Pennsylvania writer Bayard Taylor used its general outline for this short story about an aristocrat dodging British authorities by living as a member of the Society of Friends in rural Chester County. Taylor said the story was based on documents in "Philadelphia's library company." Indeed, in 1799, Henry Hamilton Cox, noted in our minutes as "a stranger," gave a sizeable archive of 17th century Irish official documents inherited from his grandfather, the Lord Chancellor of Ireland. They stayed at The Library Company until 1866, when we gave them to the Master of the Rolls in London, who reciprocated strangely by sending over William Bradford's own copy of the Mayflower Compact – not to us but to the Massachusetts State Library. |