Loading
Selling Sex
A Guide to the Stranger, or Pocket Companion for the Fancy. Philadelphia, 1849.
Strangers Guide Book Stand, Continental Hotel Lobby. Philadelphia, ca. 1860.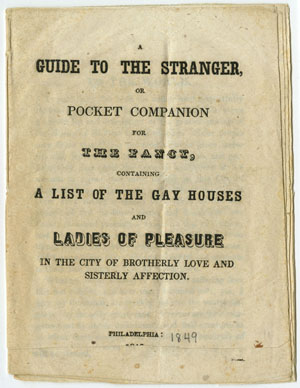 Men from rural areas made regular trips to cities to conduct business. Away from their wives' supervision and their neighbors' prying eyes, they often partook of the city's unique opportunities for pleasure. "Strangers' Guides," available at concierge desks in local hotels, directed such visitors to various places of interest including, in this case, "the gay houses and ladies of pleasure." A rare glimpse into underworld flesh peddling, this copy rates the city's brothels from the best (Miss Josephine Somers' "Temple of Venus") to the fair (Chris Brown's house, "good enough for those who don't desire any better") to the worst (Sal Boyer's "lowest house in the city").
Read the entire Guide to the Stranger here.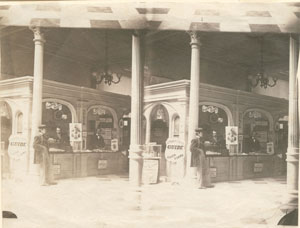 The accompanying photograph shows two male concierges manning the "Strangers Guide Book Stand" in the lobby of the Continental Hotel, which was located at the southeast corner of Ninth and Chestnut Streets.