Loading
Selling Sex
New York Magdalen Society. First Annual Report of the Executive Committee. From the Second New York edition. Philadelphia: For Sale, Wholesale and Retail, by J. Scarlett, 1831. (Gift of Lloyd P. Smith)
Orthodox Bubbles, or A Review of the "First Annual Report of the Executive Committee of the New York Magdalen Society." Boston: For the Publishers, 1831.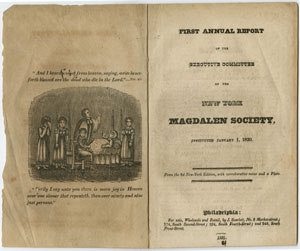 Concerned with the very real uptick in prostitution, especially among women in the Five Points area, a group of men formed the New York Magdalen Society in 1830. According to the Society's first annual report, some 10,000 women were working as prostitutes in New York City – nearly ten per cent of the female population. The often-quoted statistic scandalized civic-minded individuals in other major cities including Philadelphia, where this reprint edition appeared.
Critics rightly questioned the report's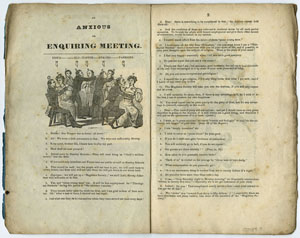 incendiary figures, intimating that the dirty minds of the Society's officers led them to see every woman as a prostitute. Wags wondered how its authors could be privy to such intimate details, suggesting that the Society's officers must frequent brothels themselves. The illustration entitled "An Anxious Enquiring Meeting," which appeared in a satiric pamphlet, shows such a scene, with various Magdalen Society officers including Arthur Tappan and Eli Wainwright "interviewing" their subjects.