Consolation Literature
A. W. Graham, engraver. Laurel Hill. Philadelphia: W. S. Winship, 1844.

Appearing in the March 1844 issue of Godey's Lady's Book, this plate accompanied a short history of Laurel Hill Cemetery. The image also appeared in the Cemetery's 1844 guidebook (with credit to Godey's) and became one of the most enduring depictions of Laurel Hill Cemetery.

The Mourner's Book. Philadelphia: W. Marshall & Co., 1836.

In the early decades of the 19th century, many publishers issued small volumes that were suitable as gifts for the bereaved. This example of the genre, published the year Laurel Hill Cemetery was founded, includes a frontispiece depicting a burial, with a clergyman officiating and mourners gazing into the grave. With the church visible in the background, the image presents the older tradition of burials in churchyards – not in a new rural cemetery such as Laurel Hill.

Richard Cecil, 1748-1810. A Friendly Visit to the House of Mourning. New York: American Tract Society, 1848.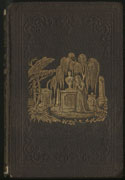 Bindings on Consolation Literature
The bindings on books of consolation literature often included images of funeral monuments. Nineteenth-century readers likely would have recognized that a broken column symbolized a life prematurely cut short. Note that the front cover of A Friendly Visit to the House of Mourning shows a woman in a setting that suggests the rural cemetery, with trees, a broken column, an obelisk, and a mausoleum.
The Mourner's Friend, or, Sighs of Sympathy for Those Who Sorrow. Worcester: Published by S. A. Howland, 1852.

The Mourner's Friend includes a frontispiece depicting Laurel Hill Cemetery. Comparing the image with the plate in Godey's, one notes that the engraved plate has been trimmed on both sides, leaving the gentleman in the foreground gesturing to something beyond the frame, rather than to the funeral monuments. And there's no credit to Godey's as the source. In the 19th century, plates used for illustrations often were reused.