Biographical Sketch
John Frank Keith
(March 16, 1883-December 28, 1947)
John Frank Keith left behind no personal or business records, only his photographs. He never married or had children to pass on his memory. He rarely stamped his photographs with his name and address or left notes on them indicating his motivations. What we know about Keith comes from official government records, accounts from a now-deceased relative, and scattered bits of information pieced together.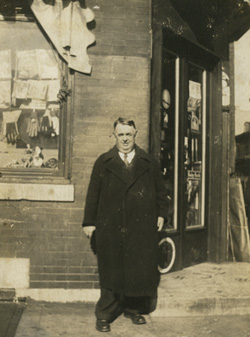 John Frank Keith standing in front of store, Philadelphia, ca. 1940.
John Frank Keith was born in Bucks County, Pennsylvania in 1883 to John Simpson and Claudine B. Keith (née Hartman). His father, a farmer and dealer of produce, was raised in Upper Makefield Township in the Keith House, which for ten days in 1776 served as George Washington's headquarters. In 1893 the family purchased and moved into a home at 2042 North 6th Street in Philadelphia, although they also maintained a farm on Pennsauken Creek in New Jersey. John Frank became older brother to siblings Isabel (1892-1971) and Lowell (1894-?) and around 1900 was sent to George School in Newtown, Pennsylvania. There, he developed an interest in chemistry and photography. Keith may have also learned accounting skills while in school, as the 1910 federal census lists his occupation as "Bookkeeper" in the "Oyster" business and his 1918 military draft registration notes his occupation as "Clerk" for the "Eastern Fish Co." In 1920, according to the federal census, he earned a wage as a "Bookkeeper" for the "Teamster" organization.
Despite his day job as a bookkeeper, Keith managed to find time to pursue his interest in photography. He traveled from his home in the Kensington area to parts of South Philadelphia to photograph residents in front of their homes. He even experimented with night photography from the roof of the family house, within which he maintained his darkroom. Other hobbies and interests included stamp collecting, keeping the beat with marching music on a phonograph, making and setting off fireworks, and reading the World Book Encyclopedia. He also traveled to national parks and visited family in other parts of the country (his mother was born in Indiana). He was described by a niece as "shy though friendly" and "lonely tho perhaps did not realize it too much he was always so busy." He referred to his photos as his "friends" and would share with his niece "a shoe box of photos and try to tell about each one if one would listen."1
Keith's father died in 1908. His mother remarried and stepfather Charles F. Eisenhower became head of the household, which, according to the 1920 federal census, included unmarried brother Lowell and four boarders. In 1922 his mother died and Keith left the home on North 6th Street and began renting rooms in other areas of the city, living "among the people he photographed."2 He occasionally stamped the backs of his photographic postcards with his address 824 Sentner St., Crescentville, Phila. Later in his life, he lived in Port Richmond with a Polish family, the Lewanskis, with whom he is listed as a boarder at 2703 Ontario Street in the 1930 federal census. Unfortunately, because Keith never recorded the exact locations of his photographs, we cannot say which scenes might be of which Philadelphia neighborhoods.
Even though he occasionally stamped his name and address on the backs of some photographs, it wasn't until the 1930 federal census that John Frank Keith declared himself as being employed as a "Photographer" at a "Studio." At this time he may have been working for a local photographer named Yaeckel, whom his niece recalled Keith doing developing for and being "featured in most of [Keith's] conversation"3 about friends. Or perhaps he had managed to make a living on his portrait work alone. Recent research suggests that he deposited several copies of his portraits at corner stores, like the one in front of which he stands in the photo above, for locals to buy as they wished. Furthermore, manuscript notes on the verso of one photograph (P.2008.10.3) list several addresses in the Pennsport area of South Philadelphia, perhaps recorded by Keith as he went block to block trying to locate previous subjects who might be interested in purchasing a copy of their likeness. Portraits by Keith remain in private family photo albums to this day, evidence that he effectively distributed his work, the whole of which is not insignificant and impressively spans three decades.
As a registrant for the 1942 military draft, Keith, approaching sixty years of age, listed his residence as 406 Spruce Street and his employer as the "WPA" at 232 North 11th Street. The exact nature of his employment at the executive offices of the Work Projects (earlier Works Progress) Administration may never be known. The government agency, in operation from 1935 to 1943, funded diverse projects across the country to employ people during and after a devastating economic depression, to improve civic life and public services, and in its later years to contribute to the nation's effort in World War II. It supported activities to improve highway safety, playgrounds, school lunches, sewers, health services, and much more. In Pennsylvania, one successful cultural initiative was the Pennsylvania Art Project, which employed skilled artists "in all media including photography"4 to create art for public buildings across the state and country. Could Keith have contributed his knowledge of photography to this program? Perhaps, but he also might have worked as an administrator, supervisor, or accountant for any possible number of projects.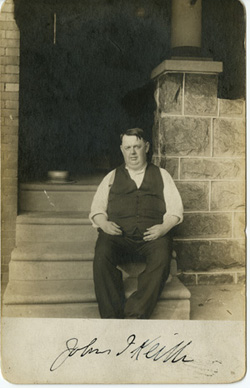 John Frank Keith sitting on porch steps, Philadelphia, ca. 1940.
John Frank Keith died on December 28, 1947, apparently of pneumonia after being in the hospital for over a week. He was a heavy set man, and his niece did not think he was well "from the beginning." He contracted meningitis as a teenager and as an adult "moved slowly, almost with a seaman's gait rocking from side to side...to facilitate forward movement." A weary-looking Keith was captured around 1940 sitting on the front steps leading to a porch. In a pose similar to ones his subjects held countless times, he has taken off his hat, rolled up his sleeves, and pushed his hair to the side. He looks directly at the camera, with a slightly uncomfortable gaze. His niece said "he did not take many pictures of himself,"5 but perhaps in a moment of knowing that his work was significant, he turned the camera on himself, leaving us with an additional record of his life.
1 Claudine Conrow, letter to Rodger Kingston, September 21, 1981.
2 Ibid.
3 Ibid.
4 Richard Irvin, Work for a Living. The Story of the WPA in Pennsylvania (Harrisburg, Pa.: Federal Works Agency, Work Projects Administration, 1943), 44.
5 Claudine Conrow, letter to Rodger Kingston, September 21, 1981.
6 Ibid.