Art & Artifacts
Discover the Library Company's Art and Artifact Collection
Distinguished Sculptors
Charles Grafly

Charles Grafly (1862-1929) was a Philadelphia-born sculptor who began his career as a stonecutter at Struther's Stoneyard in 1879. He was later placed with Alexander Milne Calder to help carve the decorative sculpture for Philadelphia's new City Hall in 1881. Following this, Grafly became interested in art and studied with Thomas Eakins at the Pennsylvania Academy of the Fine Arts (1883-1888) and traveled to France to study sculpting. He returned to the United States and taught at the Drexel Institute, as well as the Pennsylvania Academy of the Fine Arts until his death. He is known for his busts as well his allegorical statues, being favorably compared to Rodin in his skill at capturing likenesses in portrait busts.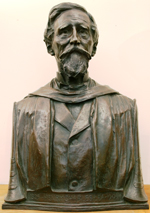 Charles Grafly (1862-1929).
Henry Charles Lea, 1910.
Bronze.
30 1/2" x 32" x 21".
Library Company of Philadelphia. Gift of Arthur H. Lea, 1911.
Henry Charles Lea (1825-1909) was born in Philadelphia and was a noted publisher and historian. Grandson of publisher Mathew Carey, Lea continued in the family's publishing firm. Many of his written works dealt with the Catholic Church in the Middle Ages and were influential in their insistence on primary source research. He was a Library Company shareholder and served as Director for many years. Lea was active in local politics, ironically opposing the new City Hall of 1881 which was partly decorated and sculpted by the future creator of Lea's portrait bust, Charles Grafly. This portrait bust is demonstrative of the celebrated skill with which Grafly executed his sculptures and is naturalistic in style.