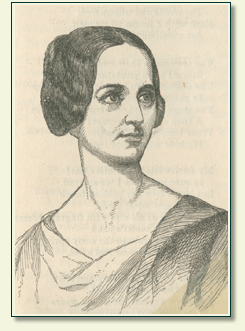 MARY E. HEWITT (1807 – 1894)
After her father, a farmer, died when Mary Hewitt was three years old, she and her mother moved from the family's home in Malden, Massachusetts, to Boston. She remained in Boston throughout her childhood until she married James L. Hewitt of New York City. His death left her a young widow, and she married again in 1854 to R. Stebbins.
Best known for the publication of her poetry in various periodicals, Mary Hewitt edited the 1850 gift-book The Gem of the Western World and edited a memorial of Frances S. Osgood shortly after her fellow-poetess's death in 1851. Her published volumes of poetry include Songs of our Land (1845) and Poems, Sacred, Passionate, and Legendary (1864). Edgar Allan Poe's appraisal of her work offers both praise and criticism, noting that her "compositions evince poetic fervor, classicism, and keen appreciation of both moral and physical beauty. No one of them, perhaps, can be judiciously commended as a whole; but no one of them is without merit."
In 1846, Edgar Allan Poe described her in his "The Literati of New York City. No. VI," in Godey's Lady's Book, v. 33, p. 159:
In character she is sincere, fervent, benevolent, with a heart full of the truest charity— sensitive to praise and to blame; in temperament, melancholy (although this is not precisely the term); in manner, subdued, gentle, yet with grace and dignity; converses impressively, earnestly, yet quietly and in a low tone. In person she is tall and slender, with black hair and large gray eyes; complexion also dark; the general expression of the countenance singularly interesting and agreeable.