Loading
Redistributing Wealth
"Harbor Police of New York," Harper's New Monthly, October, 1872.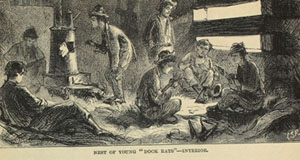 It is difficult to overestimate the contribution of children to the stolen goods trade. Particularly in urban areas, they organized themselves into gangs of thieves who stole from vacant buildings, the docks, and sometimes ships. (The junk shops purchasing their loot were often conveniently located on the waterfront and next to schools.) In addition to helping boys earn a living, older gang leaders also provided them with safe havens. This exposé details the lives of these "dock rats."
Read more of the "Harbor Police of New York" here.