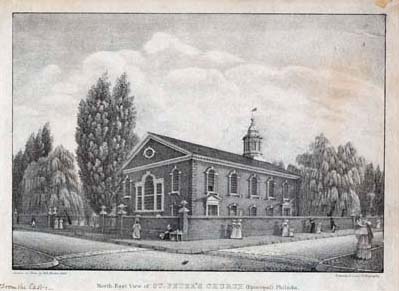 William L. Breton, North-East View of St. Peter's Church (Episcopal) Philada. (Philadelphia: Kennedy & Lucas' Lithography, 1829). Crayon lithograph.
Not until December 1828 did partners David J. Kennedy and William B. Lucas (d. 1833) open their lithographic establishment. Within a year, the firm issued the first lithographed series of views of Philadelphia. In collaboration with artist William L. Breton (ca. 1773-1855), they printed at least nine lithographs depicting prominent churches of all denominations, including Episcopal, African Methodist, and Catholic. Views from this series and by this artist continue to be discovered to this day.Although Kennedy & Lucas dissolved about 1833, church imagery would remain a staple of the Philadelphia lithographic industry.
Click image for larger view.