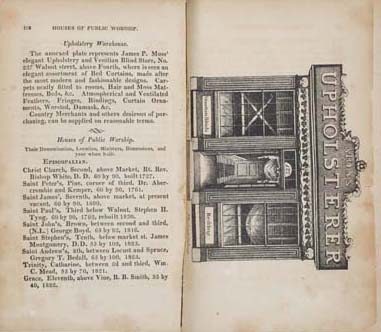 William L. Breton, Moss, Upholsterer, No. 127 Walnut Street, Philadelphia. Crayon lithograph printed by Kennedy & Lucas, in James Mease and Thomas Porter, The Picture of Philadelphia from 1811 to 1831: Giving an Account of its Origin, Increase and Improvements in Arts, Sciences, Manufactures, Commerce and Revenue (Philadelphia: Robert DeSilver, 1831). Gift of Jay Snider.
The early lithographed views of Philadelphia printed by Kennedy & Lucas also appeared as book plates, a major source of revenue for lithographic firms before the Civil War. Several of their plates illustrate this city guidebook meant to attract tourists and investors.
Click image for larger view.