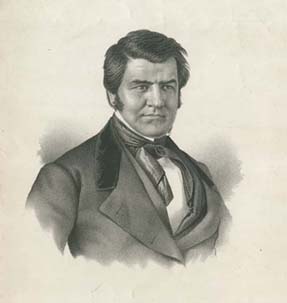 Albert Newsam (Philadelphia, ca. 1850).Crayonlithograph.
Albert Newsam (1809-1864), was known for work characterized by an "absolute faithfulness of likeness…," such as his portrait of John G. Watmough (1793-1861) on display. Deaf and mute, Newsam overcame these challenges to become the premier portrait lithographer of Philadelphia until illnesses and a changing market ended his career a few years before his death. Trained at the Pennsylvania Institution for the Deaf and Dumb and at the studio of Childs & Inman, Newsam lithographed portraits of some of the most prominent Americans of the antebellum period, including Andrew Jackson, David Crocket, and Stephen Girard.
Click image for larger view.