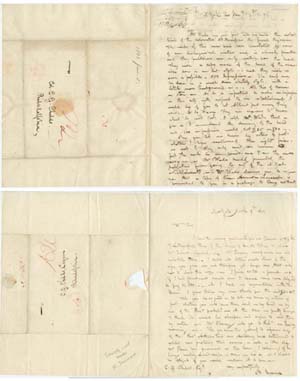 Letters from Henry Inman to Col. Cephas Childs, January 5 and March 19, 1831. Courtesy of the Historical Society of Pennsylvania.
The firm Childs & Inman, active between 1830 and 1833, epitomizes the fluid, cooperative nature of early lithographic establishments. During the first year of the partnership, Childs served as business manager and printer in Philadelphia, while Inman continued to reside in New York and act as an artist and agent for the firm. As recorded in the letters above, Inman purchased large lithographic stones at 10 cents a pound and advised Childs about appropriate lithographic artists for their commissions. He often advocated for "Albert," i.e., Albert Newsam to be the lithographer for portrait prints.
Click image for larger view.