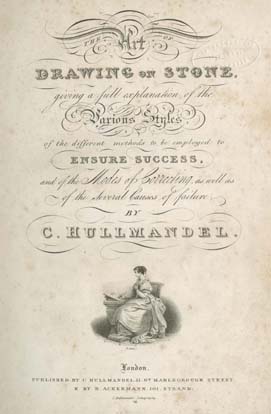 Charles Hullmandel, The Art of Drawing on Stone : Giving a Full Explanation of the Various Styles, of the Different Methods to be Employed to Ensure Success, and of the Modes of Correcting, as well as of the Several Causes of Failure ( (London: C. Hullmandel and R. Ackermann, 1824).
While no lithography manual was printed in America before the mid-19th century, European imprints circulated in Philadelphia through the transatlantic book trade. The Library Company's catalog of books for 1825 listed this one by the premier English lithographer Charles Hullmandel. Unlike earlier treatises, which focused on how to start a lithographic establishment, Hullmandel focused on the art of lithographic drawing. One of the most influential lithographers in the refinement of the process, his methods of chalk hatching and manipulation of tint stones to create gradations of tone influenced many early Philadelphia lithographers.
Click image for larger view.