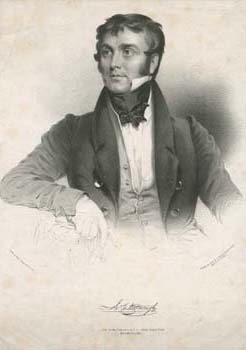 Albert Newsam, Jno. G. Watmough (Philadelphia: Pub. for the proprietors by C. G. Childs, 1831). Printed by Henry Inman N. A. & P. A. Crayon lithograph.
Following Kennedy & Lucas, engraver Cephas G. Childs (1793-1871) established the second lithographic establishment in the city, first with Philadelphia engraver Francis Kearney and Boston lithographer John Pendleton as partners, and later, in 1830, with New York artist Henry Inman (1801-1846). Childs & Inman soon became the premier establishment in the city, producing work that "exemplified the advancement of the lithographic art in the country." Portraiture dominated their early lithographic production. A patron could receive twenty-five portraits and the stone for the "moderate price" of $25 in the early 1830s.
Click image for larger view.