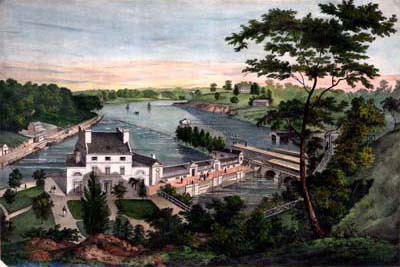 [A View of the Fairmount Waterworks with Schuylkill in the Distance. Taken from the Mount.] ([Philadelphia: Printed and published by J. T. Bowen, 1838]). Crayon lithograph, hand-colored.
By the end of the 1830s, John T. Bowen (ca. 1801-1856), a lithographer with a keen sense of self-promotion, garnered much of the local press's attention for his professionalism and artistry as represented by this view. In the early 1840s, the Franklin Institute honored Bowen for this excellence, thus cementing his reputation as a ranking lithographer. Especially significant were his prints for the seminal color plate books: John James Audubon's Birds of America (1840-1844) and McKenney & Hall's History of the Indian Tribes of North America (1837-1843). Soon thereafter, illustrations for natural history works became the mainstay of the firm, later known as Bowen & Co., through the early 1870s.
Click image for larger view.