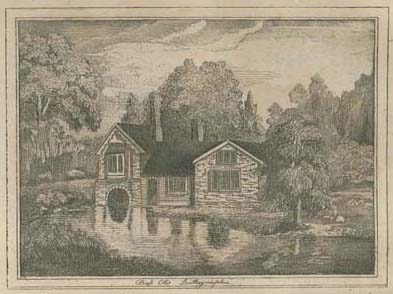 Bass Otis, "Lithographic." Etching on stone in Analectic Magazine (Philadelphia, July 1819). Composed with an etching needle rather than a crayon – more common for landscape views – identification of the print as a lithograph was contested by some 20th-century scholars.
In May 1819 Philadelphia portrait painter Bass Otis (1784-1861) and scientist Dr. Samuel Brown (1769-1830) signed out a lithographic stone from the collections of the American Philosophical Society for the experimentation of the "art of lithographic engraving." Two months later, an article entitled "Lithography" describing the process of the illustrated specimen appeared, heralding the beginning of American lithography. Although the lithograph produced from a stone donated by Thomas Dobson (1751-1823) appeared in the section "Art," it was men of science who provided the means and impetus for its creation. The author, Thomas Cooper (1759-1839), another Philadelphia scientist, promoted the creative and economic superiority of the new process, predicting an end to the "prodigious expense" of illustration by engraving in scientific texts.
Click image for larger view.