The John A. McAllister Collection: Printed Ephemera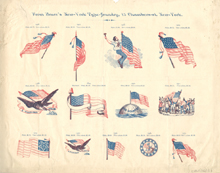 George Bruce's Son & Co., Bruce's New-York Type-foundry, 13 Chambers St., New York (New York: Bruce's New-York Type-foundry, 13 Chambers St., New York), ca. 1863. Color wood engraving with letterpress.

Specimen sheet containing examples of Civil War envelope vignettes published by the Bruce New York Type Foundry, also known as George Bruce's Son & Co.
The printed ephemera harvested from the John A. McAllister scrapbooks falls generally into three classes; popular culture, political campaign documents, and military support documents. Most of the material clusters around the Civil War years, before and after. These are invaluable documents of the Philadelphia home front.
The largest group of popular culture ephemera are the approximately 650
comic valentines.
These are handbill size single sheets with comic illustrations and insulting rhymes. They were very popular from about the 1840s through the 19th century. Images of all of them, with full verbal descriptions, are available to researchers in ImPAC. Also available in ImPAC are so me 2,700
song sheets
, most from the Civil War period. Similar in format to the valentines, they are single sheets with song lyrics to well-known tunes; sometimes the songs themselves, often new songs set to old music. The collection also includes over thirty volumes of local theatre posters and
playbills
. A finding aid describes more fully the contents of the collection. Some of the regional theatre posters, and all that are included in our
Afro- Americana
collection were item cataloged and can be found in
WolfPAC
.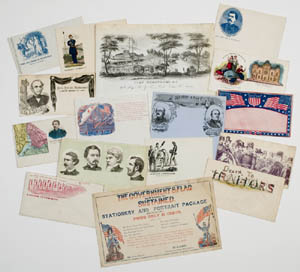 Letter papers and envelopes, printed by Charles Magnus, New York, and L.N. Rosenthal, Philadelphia, among others, 1861-1865. McAllister saved nearly 300 examples of writing paper and more than 7,500 envelopes, including over one hundred versions featuring Union Army's Col. E. E. Ellsworth (1837-1861), an early casualty. Gift of John A. McAllister.
Political ephemera consists of hundreds of broadsides, handbills, and other political propaganda for local and national elections, ranging mostly from 1856 to 1868, though there are several from the 1840s. They document Philadelphia's transformation from a largely Democratic and pro-Southern city to an important Republican and Unionist center. Most of the important broadsides have been item-cataloged in WolfPAC, but other political ephemera can be found in the
Mixed Media Collections,
particularly in the
American Political Ephemera Collection,
the
Ribbons and Textiles Collection
, and the
Salt River Collection
. (Salt River cartoons are a peculiarly Philadelphian genre of political satire, named after the figurative river up which defeated candidates are sent by the voters.)
The most significant military ephemera are the over 500
recruiting posters
for the many regiments organized in Philadelphia. Most are lively, with charging soldiers and screaming eagles. We have created a database of the illustration variants, viewable through the
Islandora digital asset repository
. Many of these posters are proof copies, with printers' notes on corrections and press run. In addition to the recruiting posters the collection also includes notices for the many military support efforts in the city, such as the Great Central Fair for the Sanitary Commission, the Cooper Volunteer Refreshment Saloon, and the Satterlee and Mower hospitals.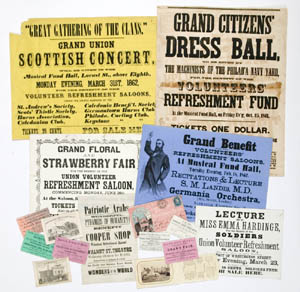 Posters, placards, and admission tickets from events held to raise funds for Philadelphia's two volunteer refreshment saloons and their hospitals, 1861-1864, with albumen carte de visite photograph by H. C. Phillips of the Union Volunteer Refreshment Saloon; largest piece 17 ¼ by 13 ½ inches. Gift of John A. McAllister.