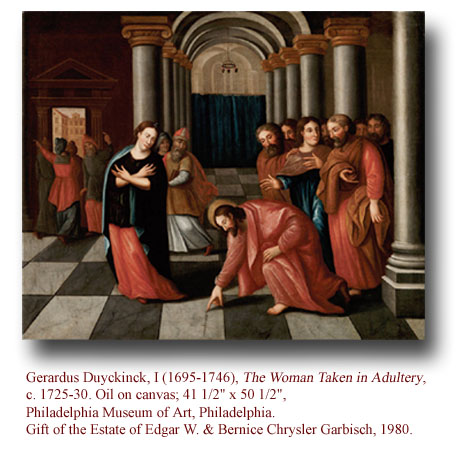 Colonial America was a world with meager access to the visual arts. However, the occasional arrival of imported illustrated bibles provided colonists and aspiring colonial artists alike with access to the pictorial traditions of Europe, thereby gradually enriching colonial artistic resources while nurturing religious imaginations. Illustrated bibles came from many countries and in a variety of formats. They displayed different artistic styles and cultural traditions, and their illustrations ranged from vernacular, naturalistic imagery to the dramatic, sophisticated art of the Grand Manner.
Section One, painting labels:
Gerardus Duyckinck (1695-1746), The Woman Taken in Adultery, c. 1725-1730. Oil on canvas; 41 1/2" x 50 1/2". Philadelphia Museum of Art. Gift of the Estate of Edgar W. & Bernice Chrysler Garbisch, 1980.

Gerardus Duyckinck was a third generation member of a family of Dutch artisans active in New York. His Woman Taken in Adultery is an example of one of the earliest artistic traditions established in America, Dutch scripture painting. The visual sources for these paintings were derived from a variety of Dutch illustrated bibles. Contemporary accounts place scripture narratives in dining rooms where, according to the diary entry of one young woman, they "made the greatest impression on my imagination and seemed to be universally admired." This frequently-depicted subject from John 8:1-11 illustrates Christ's memorable admonitions to the scribes and pharisees: He that is without sin among you, let him first cast a stone at her and to the woman: go, and sin no more.
Gustavus Hesselius (1682-1755), Portrait of an Elderly Woman, 1751. Oil on canvas; 33 x 25 inches. Philadelphia Museum of Art. Gift of Mr. & Mrs. William F. Machold.
Gustavus Hesselius, a portrait painter born and trained in Sweden, emigrated with his brother, a pastor, to the Swedish settlement of Christiana, Delaware in 1712. In this painting the artist presents the sitter in a feigned oval. Her ruffled sleeve extends into the viewer's space drawing attention to an open book with a prayerful inscription: O Lord I give / thee praise/ for health / strength / length of /days my Age/ Being Seventy-/ two years and / five days April / the 25:1751. Also on the book is a citation to Psalm 71 verse 9: Do not cast me off in the time of old age; do not forsake me when my strength is spent. The woman's direct gaze and naturalistic likeness, hallmarks of the artist's style, convey strength and serenity. Hesselius is credited as the first painter in the English colonies commissioned to create a religious painting for a public building. Unfortunately, this work, a 1715 altarpiece for Philadelphia's Swedish Lutheran church, Gloria Dei is lost. Two other documented scriptural works, a 1722 altarpiece, The Last Supper, for St. Barnabas Anglican church in Prince George's County, Maryland, and a Crucifixion also remain unlocated.
Section One, book labels:
Biblia. Frankfurt am Main: G. Raben und W. Han, 1564. LCP
The Baroque architectural elements of this vividly hand-colored woodcut provide energetic framing devices for the Old Testament vignettes seen on this frontispiece of this Martin Luther translation of the bible. At the bottom of the page the raven and rooster are printers marks representing Raben and Han. Among the several inscriptions on this bible is "David Sauer, 1839." Sauer was a descendant of Christopher Sauer of Germantown, Pa., the first American printer of German bibles in America.
Biblia. Dordrecht: Pieter en Jacob Keur, 1730. Ross Bible Collection. Given by T. Edward Ross in memory of Lucien Bonaparte Carpenter on July 1, 1946. Annenberg Rare Book and Manuscript Library, University of Pennsylvania.

Keur bibles such as this one, were produced during the period 1680-1760 in large and small formats, some with added engraved illustrations. These engravings were often a source for the imagery in Dutch scripture paintings created in America. While the subject of Duyckinck's painting is not included in this particular edition, the figure types and architectural elements seen in his painting relate to the illustration from John 13:4-10 seen here.
The Holy Bible. Oxford, John Baskett, Printer to the King, MDCCXVII 1717. St. Peter's Church, Philadelphia. LCP
This bible was used in the pulpit of St. Peter's Church during the Revolutionary era. One of its chief illustrators was the artist Sir James Thornhill, a leader in establishing grand manner history painting in England. The head-pieces and tail-pieces were splendidly executed by French engravers active in London.