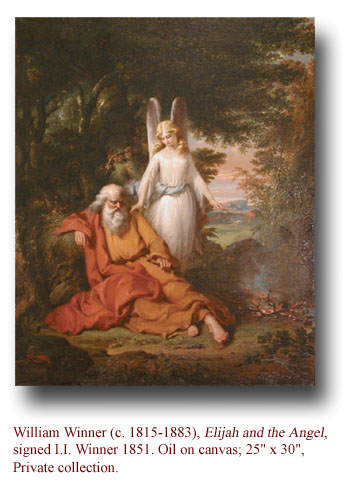 In the first half of the 19th century women increasingly took on the responsibility for the moral and religious education of their families while also supporting a variety of socially ameliorative organizations in fulfillment of scriptural injunctions. Many of the paintings and prints that appeared in middle and upper-class homes of this period reflected this merger of domesticity, religion, and social commitment.
Scriptural narratives typically became less heroic and more centered on human experience. The wood engraved illustrations by the American artist John Gadsby Chapman for the Harper Brothers' Illuminated Bible of 1846 brought the protagonists of scripture down to earth and into the hearts and sympathies of readers.
American artists responded to a lively market for adaptations of religious works by European "old masters" which merged cultural awareness with pious imagery. Portraiture often reflected religious practice or spiritual sensibilities while gift books and magazines illustrated portraits of notable clergymen.
Section Four, painting label:
Jacob Eichholtz (1776-1842), Elizabeth Eichholtz Lindsay and Cecilia Ellis Lindsay, c. 1842. Oil on canvas; 20" x 28". Lancaster County Historical Society, Lancaster. Gift of Julia Wells.

Jacob Eichholtz painted this double portrait of his granddaughters, Elizabeth Eichholtz Lindsay (1834-1893) and Cecilia Ellis Lindsay (1838-1900) shortly before his death. Shown at ages eight and four, respectively, they hold a book with a profile of Christ on one side and a cross and open bible on the other. These images are identical to the graphic frontispieces of an Anglican prayer book published in 1838 in Philadelphia which can be seen in the case below.
This family portrait, which was publicly exhibited at the Artists Fund Society in 1848, documents the likenesses and rapport of the sisters while also presenting them as children learning the lessons of religion. During this period, when both the American Sunday School Union and the American Tract Society produced large amounts of didactic children's literature, it seems appropriate that rather than showing the girls with dolls or flowers Eichholtz has chosen to create a more substantive image. As mothers of the future they will have the responsibility for the spiritual formation of their own families.
Section Four, book labels :
The Book of Common Prayer, According to the Use of the Protestant Episcopal Church in the United States. Philadelphia: Thomas Cowperthwait & Co., 1838.
The correspondence of the frontispiece images in this prayer book to those on the cover of the book held by Eichholtz's granddaughters suggests them as possible sources for the artist. While the plates from the Religious Souvenir might also have served as models for Eichholtz, the date of the prayer book is closer to the date of the portrait. It is also more clearly identified with religious practice, an idea the artist may have wished to express. During this period Christ was increasingly identified as a gentle, moral teacher, a fact that may have made this seem an appropriate image to place in the hands of the two young girls.
The Religious Souvenir, a Christmas, New Year's and Birthday Present. Key & Biddle: Philadelphia, 1834.
The engravings used as a frontispiece in this 1834 gift book are identical to those used in the 1838 Book of Common Prayer. This duplication of imagery illustrates how engraved plates moved between publishers and from one type of project to another. It also illustrates how easily gift book imagery melded with the imagery used in formal religious texts of the period.
The Illuminated Bible. Embellished with sixteen hundred historical engravings by J.A. Adams...from original designs by J.G. Chapman, New York: Harper Brothers, 1846. LCP
Harper's Illuminated Bible was advertised to Americans as "the most splendidly elegant edition of the Sacred Record ever issued." It was, in fact, the most heavily illustrated book printed in the U.S. to date. The unification of pictures and text on each page as well as the 1600 illustrations, 1400 of which were by John Gadsby Chapman, set it apart from all previous American bibles. The illustrations have a genre-like character designed to evoke an emotional rapport with the viewer. Women and children play key roles. Landscape views were also featured reflecting the contemporary interest in establishing the veracity of scripture by illustrating the sites where sacred events transpired. Having the Illuminated Bible on one's parlor table established a sacred center in the home.
Section Four, painting labels:
Rembrandt Peale (1778-1860), Madonna and Child after Raphael's Madonna della Seggiola, c. 1831. Oil on canvas mounted on panel; 28 x 24 inches. Maryland Province, Society of Jesus, Old St. Joseph's Church, Philadelphia.

Peale's work is a variation of the copy of Raffaello Sanzio's (1483-1520) Madonna della Seggiola that he painted in Florence in 1830. An icon of the Grand Tour for Americans and Europeans alike, the Madonna was well-known through engravings and painted replicas. Peale was keenly aware that many wanted to own their own "old master" paintings, but this painting in particular had the added value of presenting a timeless image of maternal devotion. His copy, therefore, offered an image well suited to a domestic interior in which artistic culture and religious piety could both be displayed.
Peale's variation of his earlier replica omits the figure of the young St. John, a change that strengthens the intimacy between the Madonna and Child while also making the picture smaller and more affordable. Peale's second wife, the painter, Harriet Cany Peale (1800-1869) and his niece, Mary Jane Peale (1827-1902) both filled orders for this popular image that smoothly integrated Catholic iconography into Protestant culture. Peale's friend, Thomas Sully (1783-1872) recorded having painted at least eight such pictures. And, like their mentor, Benjamin West, both Peale and Sully produced versions of the Madonna and Child as a portrait group in which the likenesses of a specific mother and child replaced the faces of the original. This personalization of the famous image fully elided the Holy Family with any chosen mother and child. Such commissions were the ultimate manifestation of domestic piety.
Section Four, book labels:
S.W. Cheney after Washington Allston, The Mother's Jewel. In The Token. Boston, 1837. LCP

This engraving is a variation of an earlier work by Allston initially identified as The Virgin and Child but later re-named Mother Watching Her Sleeping Child. Allston, who was non-sectarian but deeply religious, saw women as inherently spiritual, tranquil, contemplative and serious. In this work Allston seeks to wed the sacred and the domestic. The poem accompanying the image is a monologue by the mother who celebrates her child as a gift and a sacred trust and vows to devote him to God.
Popular gift books like The Token introduced the works of artists like Allston to a national audience. These publications in which images were primary, expressed elevated sentiments and didactic aims. Like the art unions of the 1840's, they helped cultivate a national visual culture.
John Sartain after Peter Rothermel, Ruth and Boaz, mezzotint engraving. Sartain's Union Magazine of Literature and Art, May 1849. LCP
This print was engraved after Rothermel's painting of 1845. The story of Ruth and Boaz (Ruth 2,3) is one of loyalty and kindness. After being widowed, Ruth, remained with her widowed mother-in-law, traveling with her to Israel where they gleaned in the fields to sustain themselves. Boaz, the owner of the fields, observed and praised Ruth for her devotion and asked her to become his wife.
Philadelphia merchant Joseph Sill admired the painting and its subject and commissioned a variation of the work for himself. A poem written by Sill to his wife on their 20 th wedding anniversary in 1845 illustrates how Americans identified themselves with the scriptures. He wrote: Such Providence did surely lead/ Our steps together, from the Fatherland/ Like Jacob's when he went to feed / The flocks of Laban, for his Rachel's hand./ Or Those of Boaz, on that harvest morn, Who passes, and saw fair Ruth amid the corn."
Section Four, painting labels:
William E. Winner (c. 1815-1883), Elijah and the Angel, 1851. Oil on canvas; 25" x 30". Private collection.
William Winner painted portraits, genre, historical subjects, landscapes and religious pictures. A Philadelphian, he routinely exhibited at the Pennsylvania Academy of the Fine Arts but also displayed works at the Boston Athenaeum, the National Academy of Design, the Apollo Association (and, its successor, the American Art-Union). Winner's religious works ranged from the cabinet sized painting seen here, Elijah and the Angel, to his 80" x 90" exhibition picture, Jesus Raising the Daughters Jairus (Masonic Village, Elizabethtown, PA). This latter work was exhibited in New York, Charleston, South Carolina and at the Philadelphia Art-Union.
When Elijah was exhibited at the Pennsylvania Academy in 1853 it was owned by the collector James L. Claghorne. The subject from I Kings 19: 4-7 shows the despairing prophet seated in the "wilderness." He is approached by an angel who brings him food and directs him to eat and prepare for his journey to Mount Horeb to meet God and so save the Israelites. Unlike the vignette in the English bible in section one, which includes the same subject, Winner shows the angel not as a dynamic, rushing figure pushing Elijah on but rather as a gentle, counseling presence. Winner gives depth and energy to the image through his rich color, the sturdy figure of the aged prophet, and the verdant landscape but, the small scale of the work and the angel's marked femininity take the picture out of the realm of grand manner history painting and into the realm of religious genre.
Robert Street (1796 - 1865), Rev. Gideon Blackburn (1772-1838), c. 1835. Oil on canvas; 49 x 43 inches. Presbyterian Historical Society, Philadelphia.

Philadelphia artist Robert Street was a prolific portraitist. His striking portrait of the Rev. Gideon Blackburn reveals his dynamic and direct artistic style. Ordained as a Presbyterian minister, Blackburn began as a frontier preacher who turned from Indian fighter to missionary. A friend of Andrew Jackson, Blackburn served as a chaplain in the War of 1812. During his career he established numerous churches and schools, among these Illinois's Blackburn University. He was also a principal founder of the Illinois Anti-Slavery Society.
Blackburn's spell-binding revivalist preaching and commanding physical presence left a lasting impression on his audiences. Contemporary accounts document his power to evoke "scriptural scenes before the eye of the mind." Accounts also reveal how well Robert Street captured his sitter's likeness, his "slightly aquiline nose" and "thin, firmly chiseled lips that compressed give the effect of a benignant smile." Blackburn gazes intently at the viewer, his long white hair setting off his strong features. Behind his right shoulder and in his hand are Greek and Latin bibles. On his left is his mission to the Indians, representing a social endeavor that he believed fulfilled God's will. In front of him is a book with notes for the "plan of the college" in Illinois.
During this period, clergymen were influential members of the larger society and their portraiture deserves examination as a genre unto itself.
Section Four, pamphlet label:
Catalogue of Robert Street's Exhibition, at the Artist's Fund Hall, Chestnut Street, above Tenth, of Upwards of 200 Oil Paintings, All Executed by Himself, with the exception of those by deceased, or Old Masters. Philadelphia, 1840. Historical Society of Pennsylvania.

Along with portraits Robert Street also painted large scale history pictures, occasional landscapes and still lifes. In this catalogue he lists thirteen of his religious paintings. At the end of the catalogue Street states his pictures of Haman Accused and the Prophecy of Simeon were displayed in Philadelphia and other American cites between 1821 and 1823. Street's portrait of Rev. Gideon Blackburn was also included in this exhibition. It was listed as belonging to Thomas Elmes, who may have commissioned it.