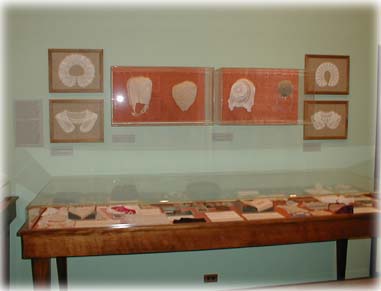 Case 2 of 2: Fashion
The industrial progress of the nineteenth century ushered women's fashion into a new era. Ruffles, flounces, and petticoats grew in size as mechanical marvels of the industrial age manufactured fabrics, trimmings, and threads at increasingly affordable prices. Time women previously used for the spinning, carding, and weaving of cloth could now be used to make more fashionable wardrobes. In 1869 Charles Leroux wrote in his Practical Treatise on the Manufacture of Worsteds and Carded Yarns that "Wool is now no longer spun by hand. That branch of industry, which has rendered such service to mankind has completely and for ever disappeared." Ready-made fabric, the sewing machine, and the proliferation of the printed word facilitated and promoted Victorian ideals of fashion, ultimately leading to a democratization of culture by the turn of the twentieth century.
Periodicals, Godey's Lady's Book and Peterson's Magazine among the most popular, reported the fashion trends of both the United States and Europe to their subscribers. These publications provided the patterns and instructions necessary for women to make fashionable garments and ornaments of dress according to seasonal trends. Sewing machines, coupled with the availability of ready-made fabric, enabled women not only to keep up with fashion but also to have the time to ornament their dress with fancywork. "Work Department" articles supplied an endless array of fancywork designs using wool, cotton, silk, and chenille. Millinery stores in urban areas sold the materials necessary to make these items. They provided a wide variety of thread, yarn, and needlework implements. The more economical needleworker sought out wholesale yarns from manufacturers' overstocks, or, as Lydia Maria Child recommended in The Frugal Housewife, "Buy your woolen yarn in quantities from some one in the country, whom you can trust. The thread stores make profits upon it, of course." The variety of available materials and patterns helped popularize fancywork in the nineteenth century.