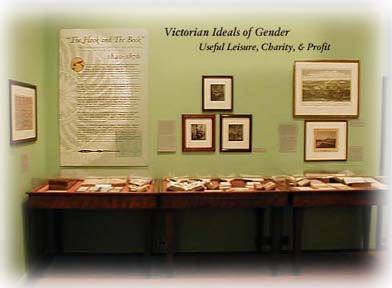 Case 1 of 3: Early American Needlework
Prior to 1840, plain sewing, or sewing for practical purposes, dominated the average lady's workbasket. Housewives by necessity had to be both frugal and creative: weaving cloth took an immense amount of time and purchasing it required a considerable investment. While the wealthy hired seamstresses, most women spent countless hours assembling, mending, and altering garments to extend the life of the fabrics. They often added decorative needlework to clothing and household linens to conceal multiple alterations or age. The demand upon women to maintain their families' wardrobes made needlework an essential skill.
Most women learned to sew, whether for practical or ornamental purposes, at a very young age. A young girl in the nineteenth century would have completed her first sampler by age six under the direction of a family member or school instructor. As her skills improved she would soon be included in the daily chore of sewing for her family. Girls from affluent families without such obligations would apply their skills to fine embroideries of silk or wool. Examples of ornamental work can be found in the form of bible covers, samplers, and pictorial needlework.