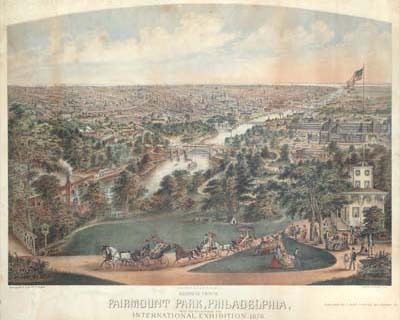 1870s
Christian Inger, Birdseye View of Fairmount Park, Philadelphia, with the Buildings of the International Exhibition 1876 (Philadelphia: Published by C. Inger & Hensel, 1875). Printed by Thomas Hunter. Chromolithograph. 
Preparations for the Centennial Exhibition of 1876 consumed the city of Philadelphia for much of the first half of the decade. The celebration of the 100th anniversary of the United States through an international exhibition of industry, agriculture, and art required expansive grounds, numerous buildings, and civic support to be successful. To promote such sentiment, the Centennial Planning Committee began in 1874 to commission views of the Fairmount Park site and proposed buildings for the fair. Thomas Hunter (b. ca. 1831), formerly of Duval & Hunter and the printer of this chromolithograph, issued the majority of these prints. This 1875 bird's eye view from the Belmont Mansion pleasure garden proves one of the most impressive. The expanse of the park, the city's several bridges from Market Street to the Columbia Bridge, the water works, and cityscape from West Philadelphia to beyond Center City capture the essence of the historic and progressive city being celebrated as the birthplace of the country.
Click image for larger view.