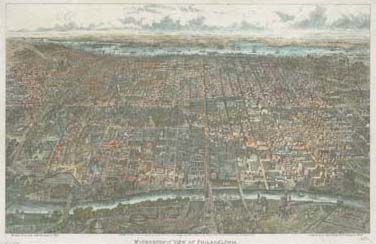 1860s
Herline & Co., Microscopic View of Philadelphia (Philadelphia: Published by John Weik, 1869). Engraving on stone, hand-colored.
Microscopic bird's eye views served as novelties and a more affordable option to their large, frameable counterparts, which in the late 1860s could cost about $4-$5, or about $62-$82 in today's money. German-born Edward Herline (1825-1902), a Philadelphia lithographer since the 1850s, worked in a series of partnerships during his career, most notably with Daniel Hensel (1830-1919) and, by the date of this print, Howard B. Hamilton (ca. 1845-1887). Known for his artistry, which was necessary for the details of a microscopic view, and work in chromolithography, Herline produced lithographs for all branches of the field, including book illustrations, maps, and advertising and view prints.
Click image for larger view.