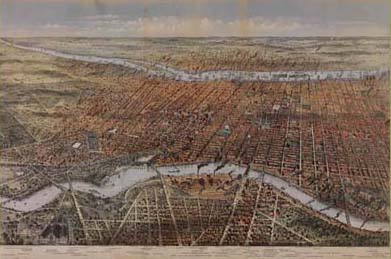 1850s
John Bachmann, Bird's Eye View of Philadelphia (Philadelphia: Published by J. [Weik], [1857]). Printed by P. S. Duval & Son's lith. Crayon lithograph, tinted and hand-colored. Courtesy of the Historical Society of Pennsylvania.
City and town views, marketed through subscriptions and advertisements in the press, had always been one of the more profitable speculative printing ventures for lithographers. Following the Civil War, views from the perspective of "Bird's Eye" soared in popularity as parlor prints to adorn not only homes, but schools and bank and hotel lobbies. Swiss-born John Bachmann (1814-1896), the noted artist of 19th-century bird's eye views, produced over thirty-five of these prints during his career and popularized the imaginary viewpoint style of this perspective in America.
Click image for larger view.