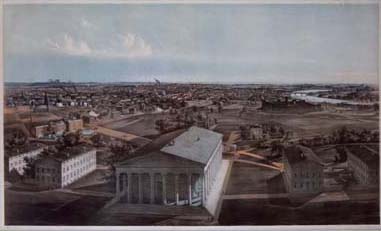 1850s
J. W. Hill and Benjamin F. Smith, Jr., Philadelphia, from Girard College, - 1850 ([New York]: Francis Smith, 1850). Lithographed by B. F. Smith Jr. Printed in tints by F. Michelin. Crayon lithograph, tinted with two stones.
Not only Philadelphia lithographers issued exquisite, expansive views of the city. This tinted lithograph published by premier New York panoramic city-view publishers the Smith Brothers (Benjamin, Francis, David, and George) shows the north and western sections of the city. The fact that there are visitors on the roof of Girard College demonstrates the excellent vantage point the roof of the boys' school at 2000-2490 North College Avenue provided spectators and artists alike.
Click image for larger view.