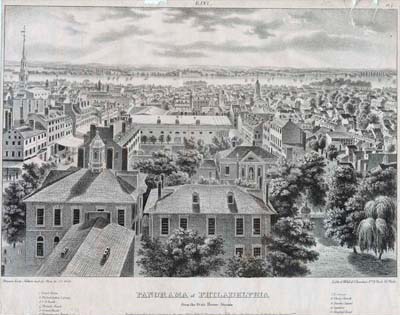 1830s
John Caspar Wild, Panorama of Philadelphia from the State House Steeple. East.  Crayon lithograph in Views of Philadelphia, and Its Vicinity (Philadelphia: [J. T. Bowen], 1838). Gift of Charles A. Poulson.
This panoramic view, issued as part of the seminal Views of Philadelphia, and Its Vicinity drawn by Swiss-born artist John Caspar Wild (ca. 1804-1846), shows the commercial and historic area east of Fifth Street between Arch and South streets, including the Library Company of Philadelphia (Philadelphia Library). Originally published by Wild & Chevalier in August 1838 as one of four panoramic prints to augment their five-part subscription series of twenty views, the single print cost 25 cents or  $1 for the set. John T. Bowen acquired the stones and the rights for the views soon thereafter and reissued them in this bound third edition in 1838. In 1848 he issued a fourth edition with hand-coloring, but without the panoramas.
Click image for larger view.