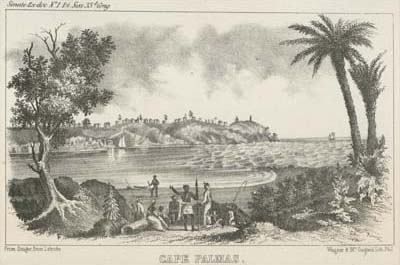 BOOK PLATES
Wagner & McGuigan, Cape Palmas from "Views of Liberia" in "W. F. Lynch Report of Mission to Africa," Senate Executive Documents, 1st Session, 33rd Congress, Part 3, Vol. 1, Doc. 1 (1853). Crayon lithograph. Gift of David Doret.
This lithograph comprises a series of views of Liberia, a country founded in 1822 for freed American slaves. The plate illustrated a government report compiled during an exploratory excursion to the west coast of Africa, at a time of debate over the success of colonization programs. 
Click image for larger view.