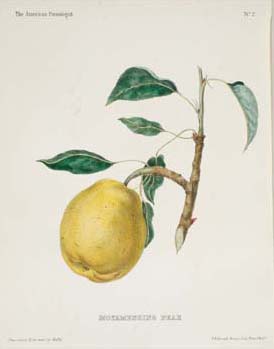 BOOK PLATES
Alfred Hoffy, "No. 2. The Moyamensing Pear." Hand-colored crayon lithograph in The American Pomologist: Containing Finely Colored Drawings, Accompanied by Letter-Press Descriptions of Fruits of American Origin (Philadelphia:  Published by A. Hoffy, 1851).  
This was the first and only issue of the journal, which was to be published no more than four times a year at the price of $2 an issue.
Publishers mostly commissioned illustrations for botanical, medical, ornithological, and other natural science and history works, but there were also exceptions.
Click image for larger view.