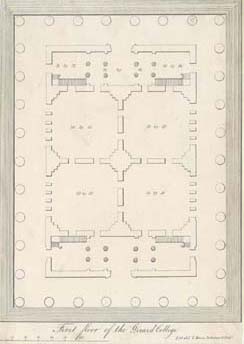 PLANS and ARCHITECTURAL DRAWINGS
First Floor of the Girard College (Philadelphia: Lith. of J. T. Bowen, ca. 1840). Pen and ink lithograph.
The ability to write and draw simultaneously on stone made lithography the ideal printing process for architectural drawings and plans. Plans executed by lithographers could range in size from this small basic floor plan of Founder's Hall at Girard College to detailed architectural drawings measuring a few feet.
Click image for larger view.