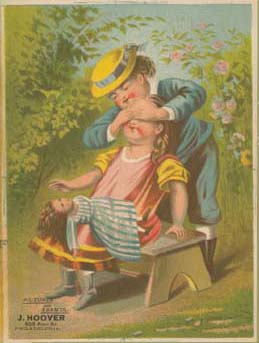 TRADE CARDS
Pictures and Frames. J. Hoover, 628 Arch St. Philadelphia (Philadelphia, ca. 1880). Chromolithograph stock trade card.
Joseph Hoover (1830-1913), the most prolific Philadelphia chromolithographer of parlor prints of the later 19th century, was  a manufacturer of frames until the mid 1860s. Within a few years, he evolved from retailer to printer of chromolithographs, with a plant built about 1876 at North 13th and Buttonwood Streets. He operated the retail shop at 628 Arch Street from about 1880 to 1882 before devoting his business to only wholesale distribution of parlor prints.
Click image for larger view.