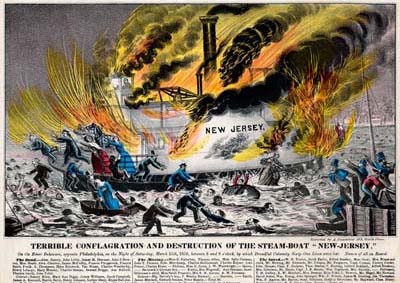 NEWS EVENTS
Terrible Conflagration and Destruction of the Steam-boat "New Jersey," On the River Delaware, Opposite Philadelphia, on the Night of Saturday, March 15th, 1856, Between 8 and 9 O'Clock, by Which Dreadful Calamity Sixty-One Lives Were Lost (Philadelphia: Published by A. Pharazin, 103 South Street, [1856]). Crayon lithograph, hand-colored.
Sensational local news-event lithographs formed a small but visually gripping segment of the Philadelphia print market with the first known print (of a murder) issued in the late 1840s. Often garish in design and color, the lithographs provided expeditious and fulsome illustrations to tragedies that newspapers and illustrated periodicals could not efficiently furnish until the late 19th century. This print of the "New Jersey" steamboat tragedy was one of at least four versions issued by two different publishers in 1856. 
Click image for larger view.