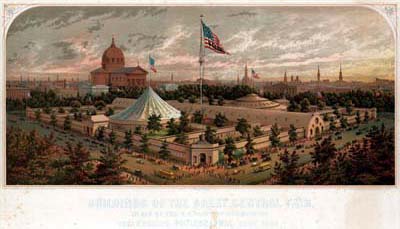 CHROMOLITHOGRAPHS
James F. Queen, Buildings of the Great Central Fair, in Aid of the U. S. Sanitary Commission Logan Square, Philadelphia, June 1864 (Philadelphia: Printed & lithogrd. by P. S. Duval & Son, 1864). Chromolithograph.
 
Chromolithography was still perceived as a novel, imperfect art form in America at the start of the Civil War. Unfavorable comparisons with European works had slowed consumer acceptance of frameable, American-made chromolithographs. In June 1864 chromolithography gained a new level of interest in Philadelphia when demonstrated on the central promenade at the Great Central Fair of art, craft, and historical exhibits to benefit the U. S. Sanitary Commission, a soldier relief organization. Reported in the fair's daily publication as attracting "the attention of every visitor," the above chromolithograph in nine colors was printed and made available for sale daily by the renowned Duval. Designed by James F. Queen, one of the most respected, versatile, and prolific lithographers of the era, the souvenir print showing the site of its production sold for $2.
Click image for larger view.