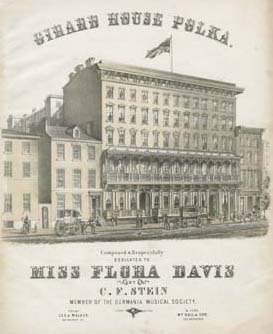 SHEET MUSIC
Girard House Polka. Composed & Respectfully Dedicated to Miss Flora Davis by C. F. Stein, Member of the Germania Musical Society (Philadelphia:  Lee & Walker, 1852). Printed by Thomas Sinclair. Crayon lithograph, tinted with one stone. Gift of David Doret.
From the early 1830s, music publishers utilized lithographers to illustrate sheet music covers. Adorned with eye-catching graphics, the covers not only marketed the music, but served as small pieces of art to be displayed on pianos in middle-class parlors. Sinclair, the lithographer of this cover, was one of the most prolific Philadelphia printers of this genre.
Click image for larger view.