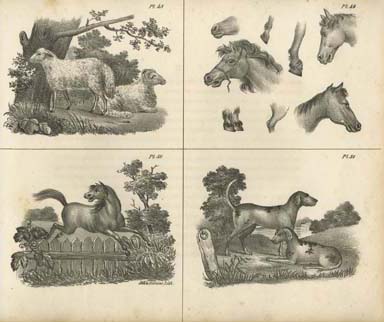 BOOK PLATES
Pl. 48-51. Crayon lithograph printed by John Collins, in N. Whittock, The Oxford Drawing Book, or, The Art of Drawing, and the Theory and Practice of Perspective (New York: Collins, Keese & Co., 1840).   
Given their greater resemblance to drawings on paper, the plates of drawing lesson books were more often lithographs than engravings.
John Collins (1814-1902), a Quaker artist, teacher, poet, and author operated his own Philadelphia lithographic establishment in the late 1830s. Although he sold his studio to Thomas Sinclair around 1840, he remained active in the field. The above drawing book was the first of a number of art instruction books that Collins either wrote or to which he contributed lithographs, including Progressive Drawing Book of Flowers for Beginners (1844), My First Drawing Book (1871), and Model Drawing Book for Boy and Girls (1892).
Click image for larger view.