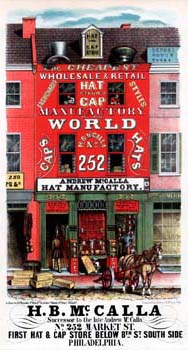 Robert F. Reynolds, H. B. McCalla, Successor to the Late Andrew McCalla, No. 252 Market St. First Hat & Cap Store Below 8th St. South Side, Philadelphia. (Philadelphia: Printed in colors by Wagner & McGuigan, ca. 1852). Chromolithograph.
The partnership between Thomas S. Wagner (1813/14-1863) and James McGuigan (1818/1819-1874) was one of the most prolific of the 1850s in the production of advertising prints. They were the main rival to Duval in the advancement of the steam press. Active in the early promotion of chromolithography in the city, the firm experimented with the block style of the print process formulated by premier French lithographer Godefroy Engelmann, displayed here. The partnership dissolved in 1858, following a second fire at their establishment. Both lithographers went on to found their own firms. 
Click image for larger view.