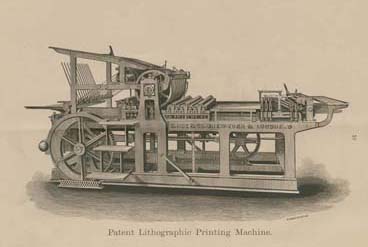 "Patent Lithograph Printing Machine" in R. Hoe & Co., Printing Press, Machine & Saw Manufacturers (New York: Hoe & Company, 1876). 
Robert Hoe & Co. was the dominant American manufacturer of lithographic steam presses in the 1870s. Hoe's "printing machine," patented after an invention of French mechanical engineer Hippolyte Marinoni (1823-1904), included a cylinder, automatic dampening and inking features, and an improved paper delivery system. The press printed about 1000 impressions an hour, ten times the number produced by one operated by hand. Its price varied depending on the size of the adjustable stone bed, with those able to accommodate works larger than four feet costing over $6,000.
Click image for larger view.