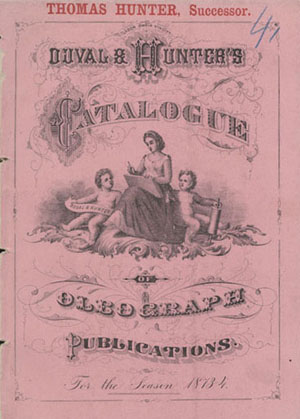 Duval & Hunter's Catalogue of Oleograph Publications. For the Season 1873-4 (Philadelphia, 1873).  Courtesy of Graphic Arts Division, National Museum of American History, Smithsonian Institution.
By the late 1860s, frameable chromolithographs after fine art works – "democratic art" affordable by all – were popular throughout the nation. Print publishers issued catalogs and employed agents (sometimes children) who went door-to-door to sell these works to a seemingly insatiable market. Duval & Hunter, publishers of this catalog, produced some of the most critically acclaimed works from this genre of chromolithograph, often made with oil-based inks to resemble paintings, which they promoted under the German term of "oleograph."
Click image for larger view.