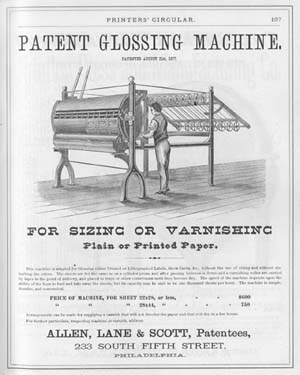 Printers' Circular (October 1877).
 
Established by printer Robert S. Menamin (1833-1887) in 1866, this journal, perhaps the first of its kind, provided later 19th-century Philadelphia lithographers with articles about the state of the printing trade. Edward Herline (1825-1902) and W. F. Geddes (ca. 1799-1888) were early subscribers. The journal also contained advertisements for inks, papers, and newly developed tools, and bargain pages listing second-hand lithographic presses for sale. The journal acknowledged top lithographers through "Specimens of Printing" columns, and its advertisements often contained product endorsements by respected lithographers, such as Eugene Ketterlinus and Jacob Haehnlen.
Click image for larger view.