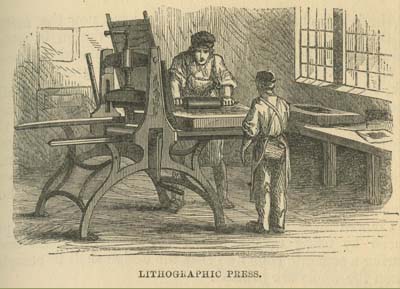 "Lithographic Press" in Elisha Noyce, The Boy's Book of Industrial Information (New York: D. Appleton & Co., 1858).
This printer inks a stone on the bed of a lithographic handpress built with a wood base, fixed scraper, and lever. A lever to move the stone bed, as opposed to a star-wheel mechanism, dominated the presses used by Americans. Based after the star-wheel design developed by Hermann Mitterer (1764-1829) of Munich in 1805, the hand-levered press could print up to 120 impressions an hour.
Click image for larger view.