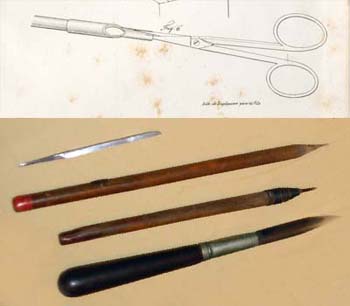 A. Lithographic Pen. Detail from Pl. XLII in Godefroy Engelmann, Traité de Lithographie (Mulhouse, Germany: P. Baret, 1839). Courtesy of the Historical Society of Pennsylvania.

B. Graver, Etching Needle, and Scraper, late 19th-century.
Lithographers laid down the grounds for tints with dabbers and printers utilized the tool (instead of a roller) to ink designs completed with gravers. They used etching needles and points to make corrections as well as scrapers, which were also used to create "lights," i.e., scratched-out areas in a design, for details such as in the foreground of The Rag Tender print on display in this section.
Click image for larger view.