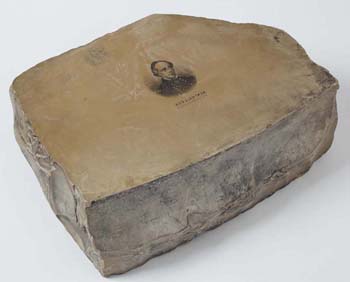 Lithographic Stone, late 19th century. Gift of David Doret.
Throughout the 19th century, superior quality Solenhofen limestone from Bavaria, Germany, dominated the lithographic stone trade on both sides of the Atlantic. Even when zinc and aluminum plates suitable for lithography became more available in the 1870s, Bavarian stones (imported to the United States with a tariff) continued to be the preferred printing surface. All lithographic stones, from small ones like this example to those as large as 60 inches in length, were at least 1-1/4 inches thick, and had to be polished and grained before a lithographer could begin to draw or transfer an image on it. Crayon drawings, which make up the majority of prints on display in this exhibition, required more graining, while ink work or a transfer design (which can be seen on this stone) required a more polished surface.
Click image for larger view.