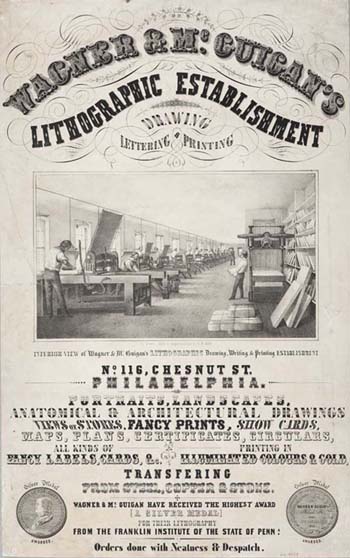 Jacob Aub after James Queen from a daguerreotype by T. B. Shew, Wagner & McGuigan's Lithographic Establishment No. 116, Chestnut St. Philadelphia (Philadelphia: Wagner & McGuigan, ca. 1847). Courtesy of Division of Home and Community Life, National Museum of American History, Smithsonian Institution.
This advertisement for Wagner & McGuigan, one of the premier lithographic firms of the city during the 1840s and 1850s, shows a rare view of the interior of a Philadelphia lithographic establishment. The several lithographic presses, shelves of lithographed stones stored for return patrons, and an apprentice transporting a stone past a standing-press (a press that smoothed out prints) document everyday operations and attest to the large output of this firm.
Click image for larger view.