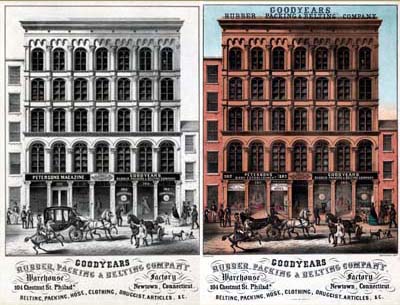 Emil Luders, Goodyears Rubber, Packing & Belting Company (Philadelphia: Lithy. of A. Kollner, ca. 1856).

Left: Crayon lithograph proof.

Right: Chromolithograph with hand-coloring.
Lithography, like most commercial printing processes, required a proof print (left) before a final state (right) was issued. Pencil annotations often indicated the areas in need of alteration, as seen within the title of this advertisement. Those modifications were minor compared to the ones to the image. Lithographer Augustus Köllner (1812-1906) removed the folio of views with his imprint shown in the window of bookseller Charles J. Peterson (1819-1887), while he added a livelier scene showing the patrons at the Goodyears Company. The look of the coach passenger and her vehicle changed as well. To perform such major revisions to a crayon lithograph, acid would have most likely been used to remove the marks, as a scraping tool would be too damaging to the coarse grain of the stone.
Click image for larger view.