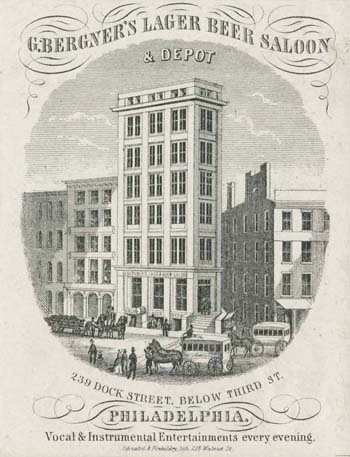 G. Bergner's Lager Beer Saloon & Depot, 239 Dock Street, Below Third St., Philadelphia. Vocal & Instrumental Entertainments Every Evening (Philadelphia: Schnabel & Finkeldey, [1859]). Engraving on stone. Gift of John A. McAllister.
Engravings on stone resemble traditional engravings on metal plates or wood blocks. Lithographers used diamond points, gravers, and etching needles to cut through a thin layer of colored gum arabic deposited on the stone to create the ruled and fine lines. Although engraving tools created the image, a pen or brush, probably in the hands of another lithographer who specialized in lettering, executed the textual elements.
Click image for larger view.