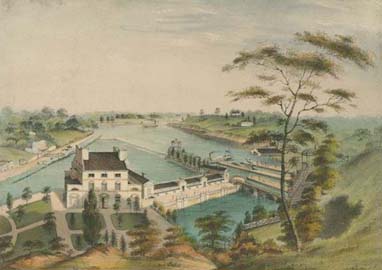 [A View of the Fairmount Waterworks with Schuylkill in the Distance. Taken from the Mount.] ([Philadelphia], ca. 1838). Crayon lithograph, hand-colored.
Before the introduction of chromolithography (printing lithographs in multiple colors) in Philadelphia in the mid-1840s, hand-colorists, mostly female, added color to prints intended for home display or book illustrations. Hand-coloring gave a cachet to prints, and usually doubled their price.
Click image for larger view.