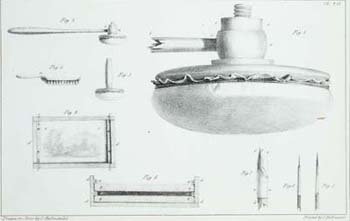 Pl. 7 including a dabber, lithographic pen, and fine tipped brush in Charles Hullmandel, The Art of Drawing on Stone (London: C. Hullmandel and R. Ackermann, 1824).
Pens with tips often made from the thinned metal of watch springs split with scissors or fine-tipped brushes  applied the ink known as tusche (lithographic ink sticks mixed with water) for lettering or linear designs without tones, such as plans and maps.
Click image for larger view.